There's no better feeling than knowing that I could put my baby to bed and take a shower without feeling my front door could be compromised. I absolutely felt safer being home alone at night with my child as well.
I would recommend The Lock Locker because it gives you a sense of security, it is easy and it works!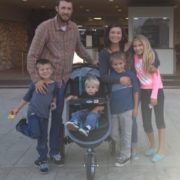 The Lock Locker as an extra measure of security helps to give me more peace of mind.
Having four children in different rooms, safety is a big concern for us. I do worry during the night, and get up often to check on them. Any extra security measure for our family is a bonus!
This product is great, we would highly recommend it!
I love it!  I don't think anyone has tried to break-in but I feel better knowing it's on. 
We love our Lock Locker.  It is a permanent part of our home security.
The Lock Locker is on our front and back doors!!!
One of the best things in my house :)!!